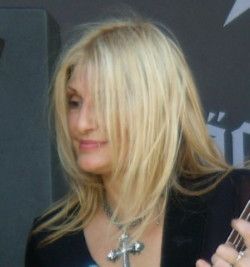 Sharon Butcher: Bass Guitar and Vocals. 
Sharon is endorsed by Gretsch Guitars. For years her charismatic bass playing and vocals have added to the originality of the bands she has played in. Sharon has earned a reputation over the years and is respected in many different fields of music by her peers. She has played clubs to arenas, casinos and concert halls, along with recording on many albums and radio commercials. 
She won Bass Player of the year at the 5th Annual South Bay Music Awards 2009.
She received the Producers Choice Award for Rock/Blues Bassist of the year at the 2012 Los Angeles Music Awards. 
Sharon has played and sang on many of Jay Gordon's CD's. The "Blues Venom No Cure" CD was a 2012 GRAMMY® Nominee, it also won Los Angeles Music Awards 2012 "Blues Rock Album of the Year" and "Show Case Artist of the Year"
She also did a remake in 2009 of the classic rock song "White Rabbit". This was the last recording done with Donnell Cameron at the famous Westbeach recording studio in Hollywood Ca, famous for recording groups,  such as Bad religion, NOFX, Pennywise and more. She is currently playing bass and rocki'n the blues for Jay Gordon and Blues Venom.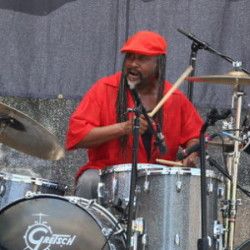 Dwane Hathorn: Drums
Dwane grew up in Compton, Caliufornia. He was raised on the blues,jazz and R & B. He has performed and collaborated with Marshall Hawkins (Miles Davis), Chubby Jackson,  Harold Land, Bob Boss, Koko Taylor, Etta James, Zac Harmon, Shemekia Copeland, Ivan Nevilles, Durnpsta Phunk, and many others. 
Dwane formed Aunt Kizzyz Boyz in 1999, it has been a force in the San Diego music scene since. AKB represented San Diego twice (2006 & 2008) in the International Blues Challenge in Memphis, Tenn. Placing second in 2006.
Dwane has been nominated 4 times for the San Diego music awards, winning twice with The Bill Magee Blues band. Along with AKB, Dwane has won the Temecula Film and  Music |festival.  "Top music artist" in 2004. AKB also won the Los Angeles Music Network Jam against many R & B and hip hop groups. 
Dwane has performed in many blues festival in the United States and Europe. Dwane enjoys playing! !! Good energy and good vibe. As he always  says ... IT"S ALL ABOUT DA GROOVE! ! !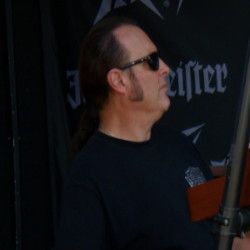 Harlan Spector: Hammond B3 & Piano 
Harlan Spector is an LA based Keyboard player best known as a Hammond organist with extraordinary ability on the organ bass pedals. He plays all styles of music especially rock, blues and classical as well as funk, soul, country and jazz.
He grew up in a musical family in Illinois and began playing professionally at 13 and did a national tour at 17. After earning a BA in Music at Illinois State University her began touring all over the Midwest, east and south gaining experience playing all kinds of venues and getting a strong back moving that Hammond C3.
He eventually settled in Chicago to play in blues and heavy rock bands before moving to Los Angeles, Ca. in the 80's where he started working and recording with national acts.
Harlan has recorded and performed with many acts including Elvin Bishop, Redbone, Buffalo Springfield, Buddy Miles, Robby Krieger, Jesus Christ Superstar, Guitar Shorty,  Becca and LA County, Scarlett Rivera, The Music Machine, Skip Hellert Quaqrtet, Don Peake and his Alstars. 
He also recorded a new album of original trio organ music at Don's studio in NOHO \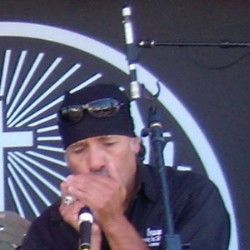 Mario Ramirez: Harmonica
Mario is a special part of our group. Mario is the younger brother of the great Richie Valens.
Over the years Mario has gotten to share the stage with some greats such as the late John Lee Hooker Sr. and Jr., Joe Louis Walker, Canned Heat, George Thorogood,  Foghat, John Kay and Steppenwolf, Blue Oyster Cult, and has opened several times 
for his friends in Los Lobos. 
You can feel the passion in the music that he plays and sings, which is so apparent in his energetic stage presence and showmanship. 
He comes out and sits in with our group often. He played many tasty harmonica parts on our Blues Venom - No Cure cd.