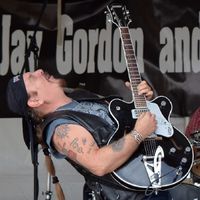 Jay Gordon and Blues Venom just released a new single. "Eve Of Destruction" They thought it was appropriate for the times we are living in. They put a new spin on a great old song.  Jay really rocks this one.  For those unfamiliar with Jay Gordon, he is a West-Coast, certified Bad Mofo Blues Rock guitar player. Eve of Destruction" is a protest song written by P. F. Sloan in mid-1964.  It's 2022 now and I find it extraordinary that a song written over 55 years ago (an eternity in our modern world) is still as relevant today as it was back then.  AVAILABLE IN OUR MUSIC STORE ON THIS                                                         WEBSITE.  EVE OF DESTRUCTION
Woodystock Blues Festival 2022
Jay Gordon
Nine Time Award Winner  -  2012 Grammy® Nominee and 
Winner of Three 2012 Los Angeles Music Awards 
Wanted to let you know that a post about Jay Gordon and his new CD was put on the Gretsch site a couple of days ago.  (https://www.gretsch.com/) It will appear on the home page blog section for a while. (https://www.gretsch.com/2020/01/jay-gordons-new-cd-slide-rules-have-critics-talking/)  Also did a tweet. (https://twitter.com/gretsch)
Check Out Our CD "SLIDE RULES"
This cd has 13 of Jay's great Slide Guitar songs on it.
Jay Gordon's New CD Slide Rules! Has Critics Talking
What Critics Are Saying About the NEW CD Release SLIDE RULES! by Gretsch Artist JAY GORDON
NEWS | JANUARY 29, 2020
Nov 15, 2019 - Hailed as 'the new master of the slide guitar' by the Montreux Jazz Festival, and 'the real thang' ...
Jay Gordon – Slide Rules CD (Shuttle Music). Boo Boo Records
 Jay Gordon – Slide Rules CD (Shuttle Music)  Creative, aggressive, blistering slide guitar-and then some.
 Rock Doctor – by John Kereiff:
"Slide Rules! is the meanest, nastiest slab of slide blues to come out in maybe ever, and I can't get enough."
Cleve Baker – Confessing the Blues Radio:
"Creative, aggressive, blistering slide guitar-and then some!" Slide Guitar Mastery a work of art
Scintillating and almost time traveling 21st Century Bblues."
Rock and Blues Muse with Martine Ehrenclou – Review by Mike O'Cull:
"Gordon is a ferocious slide guitarist and singer with a live, in-the-moment style that's impossible to ignore."
Professor Johnny P's Juke Joint:
"Jay Gordon doesn't just play guitar. In his hands and fingers, the guitar becomes a weapon – sometimes firing like an automatic rifle, other times burning like a flamethrower in the night. Make no mistake about his talent, Jay Gordon brings a guitar to life!"
See full reviews here    Jay Gordon and Blues Venom Slide Rules Reviews
 
ROCKIN' THE BLUES & BOOGIE
They say that music is the language of the soul, and nothing could be truer for this Blues Band. Composed of a group of inspirational musicians and skillful performers, the artists behind Jay Gordon and Blues Venom have earned their reputation as a talented band to look out for. (bassist Sharon Butcher and drummer Tom Parham) From live gigs to studio sessions and more, they continue to touch fans around the world with their distinct and enjoyable musical style. Explore the site and check out their music.